Sky rockets in flight! (No nasty bugs in sight… )
Let's raise a toast (regardless of the hour) to fab friends and their good graces.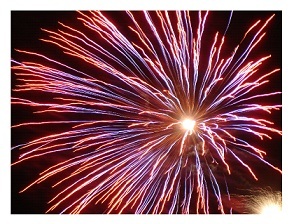 No more bad clothing (or lack of cherries) around these here parts. A HUGE merci to a lovely woman with magic in her fingers, patience in her persona, determination in her dynamic, and a whole lot of class.
Daily Plate of Crazy is back in business!
Thank you Sarah, and thank you to all those who were going to offer me a virtual couch to park my wordy wares for a few days!

Big Little Wolf's Daily Plate of Crazy