You're forewarned before you even consider entering the room. Your first clue? The red metallic sign on the door reads: BIOHAZARD – KEEP OUT. And that door is shut, most of the time.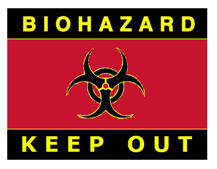 Of course, when it's your kid's room, you have to make an appearance. Now and then.
There are the days when you're certain the entirety of the household supply of socks has succumbed to the hidden stash effect: shoved under a twin bed, behind the computer, and tucked between objects you can't quite name. There are evenings when you peer through the kitchen cabinets and the dishwasher, and you know half the cutlery and glasses are A.W.O.L., leading one to assume they have been swallowed into the black hole of the same (aforementioned) space.
Occasionally, there is a frantic teenage text relative to a forgotten book, project, or tennis racquet (take your pick), which requires an expedition into the Toxic Zone and, if you're feeling kindly, one more trip to the High School, for good measure.
And naturally there is morning. He oversleeps, you knock gently, then not so gently, then hear the (surprisingly) deep voice that grumbles something in response. Perhaps he's saying "I'm awake," but as it isn't sufficiently convincing and it's late, you knock once more and open the door, say "GET UP NOW" in a tone consistent with the posted signage, as you exit quickly lest you be contaminated.
Cleaning house: all specialists apply here, please

Domestic Goddess? Not a title I'm likely to win.
Assembling eclectic and personal furnishings? Thumbs up. Arranging art? Thumbs up again. Filling a home with books, conversation, and laughter? Can do.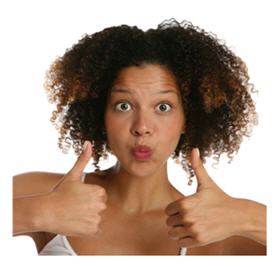 Cleaning and organizing? Insisting on a tidy and uncluttered environment? A fabulous concept, and I dream of cleaning house – truly cleaning house (literally and metaphorically), but it remains an impossible pursuit worthy of Don Quixote.
I would engage all necessary professionals if I could: Clutter Consultants, Maid Services, Specialized Squirrels-in-the-Attic Removers.
The adolescent room
Like most parents, I do what I can managing the fine line between mess and unmitigated disaster. We all have our limits (and of course, they vary), typically stretched beyond reason when we're overtired and overworked. And those limits are constantly assaulted when you dwell in the land of single parenting.
My teenager's room. Must my plaintive cry be heard up and down my leafy little street?
I admit – my own heaps and piles are no great model, but I don't store dirty dishes under my bed, my socks go straight into the washer, and a highly organized mind balances out some of the disorganization of my physical environment. As for my son's room, the cracked walls have been driving me crazy. For two years. Yes, the very same ones he agreed to paint more times than I can count.
Recipe for success (or at least, progress)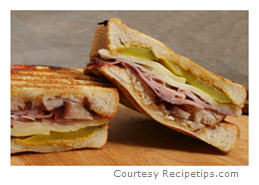 I resorted to an old trick. (It's been working well lately.) Food. Food as motivator, and of course – fuel. I also used the element of surprise: I dangled a Cuban sandwich in front of him, for the low low price of $2.99, freshly made, courtesy of my local supermarket.
The kid loves their Cuban sandwiches – what can I say? They're delicious, and apparently, a critical cleaning aid at this time in his young life.
Along with the sandwich, I offered up a trip to Home Depot for a paint roller, a second can of paint, a box of Nutter Butters, and two hours later, three walls were in process. Astonishing.
For the next two nights, he painted, slept on the couch (the fumes), and by Monday morning – three walls glistening – he was talking again about the mural he's had in mind to create for several years. The fact that he only painted three walls instead of four? No matter. You can hardly see the fourth wall; it's behind a set of heavy bookcases. He did as I asked – covered the cracks, and painted.
This morning I saw that he had swept and rearranged the furniture. There's still a trail of dirty socks on the floor (what's up with that?), but I figure it's a win. We're  in the "acceptable" range. And every home needs a muralist, right? I imagine I'll just have to keep him in Cuban sandwiches, to make sure it gets done, and doesn't require another two years.