I need a new job title. Irritant. Possibly – Irritant Extraordinaire. And if the Louboutin fits…
The "Irritant" Job Description



What's involved? Actual job duties? Here is a partial list (ADA and FDA-approved): cooking, cleaning, coercing; mega mountains of laundry, avoiding aforementioned laundry; counseling (whether the participant is willing or not), coaxing (a word or two?), lecturing (because something gets absorbed, however stony the reception); chauffeuring, showcasing, showboating; piles of patience (while your heart is pounding, your palms are sweating, your hair is graying, your blood pressure, rising), not to mention naysaying, negotiating, persuading, motivating, monitoring, measuring, and slowly backing off.
Care  for the succinct version?
The gist of the list
Advance from Point A to Point R. No skipping allowed. That's 18 letters of the alphabet. Consider each letter one year, which adds up to (drum roll please)… raising a kid!
Think it's easy to master this role? Think again. Here are just a few of the essential KSAs, also known as Knowledge, Skills, and Abilities.
Tough skin – a must.
Mind like a steel trap – a gotta.
Jacqueline of all trades – was there any doubt?
Voice range, booming to whisper – a plus.
Ability to not lose lists – a plus.
Boat loads of perseverance – advantageous.
Padded Room, Screaming Closet, Wine Cellar – critical.
Persistent parenting = perpetuating potential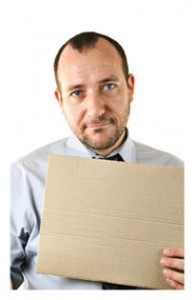 Should I say my career as an Irritant, which may also be construed as parenting an adolescent? (I dare say the same rules apply when dealing with precocious tweens. And possibly toddlers, sans worries about sex, drugs, and rock 'n roll.)
More detail on the job content?
I nag, I nudge, I nurture (from a distance). I remind, I reiterate, I regurgitate (lessons of Import that are being Ignored, or make that Persistent Parent Being Ignored, yes, there ought to be an acronym and surely it's a syndrome).
But all is not Ignominious.
My recipe for success?
The secret to my success as an effective and insistent Irritant?
Food.
Food in serious quantities, painstakingly provided, on a regular basis. Food as bribery (so they will sit and listen). Food as tranquilizer (to calm the hormonal heathen). Food so they grow taller than you (okay, I know, anyone over the age of eight is taller than I am).
Food tames the teenage temper, soothes the savage soul, slows him, distracts him, and allows the Irritant Extraordinaire to get on with the job at hand.
And the Irritant must properly nourish herself as well. Do you think Keeper of Sanity During Roller Coaster Times is easy? Unfortunately, most of us don't possess the Private Padded Room, the Screaming Closet, or for that matter, a wine cellar. Not even a wine cooler! So best to eat right so you can duke it out (argument-wise), stick it out (irritant-wise), and muddle along with the job of raising kids – and whatever else you do in life that isn't nearly as round-the-clock challenging. My personal faves for Irritant and recipient of her skills: red meat (no vegetarians here), salmon, spinach, a variety of veggies, and the all-important glass of Pinot Noir. (For moi, not him!)
Proof is in the pudding (or the steak au poivre)

Steak au poivre? Pommes de terre sautées?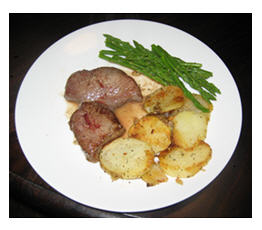 My headstrong progeny is much more amenable to reason following a perfect plate to please his palate. A nice fillet – specifically steak au poivre. And really, who can blame him? Which is exactly why we dined on just that, last night, as this Irritant Extraordinaire saw serious strides in tending to tasks from second son. Carrot and the stick?
More like carrot and the carrot cake.


Big Little Wolf's Daily Plate of Crazy