I was not where I wanted to be. In the car, weary, and heading across the city. At rush hour.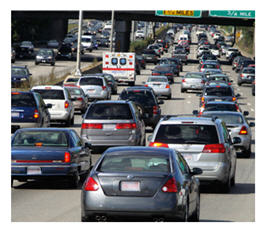 My son was next to me in the passenger seat, navigating by two maps printed off Google; we were trying an alternate route to avoid tie-ups, but some were inevitable. I was leaning against a heating pad in the driver's seat, plugged into a gadget in the dash, and blowing cool air on my face. Sick, aching, likely to get lost with hastily found directions, and trying to beat the clock.
No. Definitely not where I wanted to be.
It's amazing what lengths we'll go to for our children. At any age, including when they're teens and they're constantly pushing our buttons. My son is certainly no exception, and I've been forced to learn the art of the deep breath, before I react. I haven't mastered it yet, believe me, but I do say yes far more than I say no. And generally, it's appreciated.
Rush Hour Parenting
Admittedly, a tinge of single parent guilt is often in play, but it's been long enough that I recognize that isn't always the case. More to the point – I am an engaged parent. Fully engaged. If I can provide experiences that will enrich my sons or facilitate their forays into the world, I move heaven and earth to do so. I believe that it is my job. My parenting profession – whether anyone else views it that way or not.
Of course, the realities of my situation mitigate against some of this: no partner to assist, a budget that lives in the red, physical inconveniences that make things challenging, including something like driving across the city, or finishing the task of teaching my son to drive.
So there I was. Nervously and uncomfortably heading through an area where urban decay comes with the anticipated landscape, even as we passed strip mall after strip mall of closed stores, more recent spillage of our city's economic woes.
And all this, for Mr. Cartoon.
Mr. Cartoon, Tattoo Art
No. It had nothing to do with little kids, or even cartoons. It had everything to do with a Los Angeles-based tattoo and graffiti artist, of considerable reputation. He was making a promotional appearance to which my son was invited along with other city high school teens, compliments of his art class. That we knew nothing about it beforehand, and that I'd have to haul my weary bones through the city was unexpected. And while I wasn't up to it (and tattoos are not my thing), my son wanted to go. And I needed to know that I could do this for him, that I could still make my way through traffic and distance if tired, stressed, or in pain, in case of emergency. It was a test for myself, I guess, as much as something for the son I love so deeply.
The escapade turned out to be a four-hour adventure; the canvas on which Mr. Cartoon drew as he talked was interesting enough, and my son enjoyed socializing with two girls (of course) whom he knew. And anything to do with art – graphic art, fine art – gives him more fuel for the creative fire. Yet he said he was sorry he'd dragged me out for this; my fatigue was apparent.
Nonetheless, it was Mr. Cartoon himself (Mark Machado) who most impressed me. His easy manner while speaking to teens, the way they seemed to relate to him. It seems that Mr. Cartoon is in fact well known in the world of ink, in the Los Angeles community of graffiti art and muralism, and certainly to hip hop circles for his tattoos and logos, as I found out in Latin Rapper. He is a squat man with close cropped hair and neatly trimmed beard. His tattoos and manner would've frightened me on the street (I admit it), but here, in this place, I saw a man speaking to kids. And later, I saw a father.
I introduced myself at the end of the presentation as "a mom and a writer" and I asked if I might photograph him. He was gracious enough to oblige. There was a skull on the canvas, and tattooed names on his hands. He smiled and said  "my children," as he showed off his artistry, and I snapped another photo.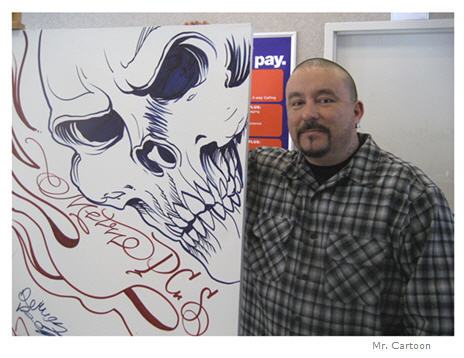 Parenting Style
My son and I headed back through the city as rush hour eased. Halfway home, I pulled into an empty lot so he could take the wheel. That pleased him, of course. He's gotten few opportunities to drive because I've been too tired to take him, too tired to nudge the job of teaching him more quickly. It is a source of frustration for him, and he has been patient with me. What he cannot comprehend, and I'm glad, is my fear, triggered any time I sit in the passenger seat. Fallout, from the accident three years ago.
This was a tight two lane avenue, which opens onto a three-lane highway that cuts through the city. He needs this experience though I don't need the stress. Still, I have no choice but to risk these moments. As many of them as I can.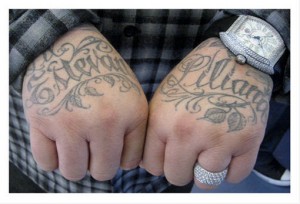 Some parents ink their children's names into their flesh.
Some parents push themselves through ache and fatigue.
We are not so different. We love our children, whatever our side of town.