Satiny stationery with your monogram? A fine, textured linen that feels light as a feather? Or do you prefer a gold-embossed note card?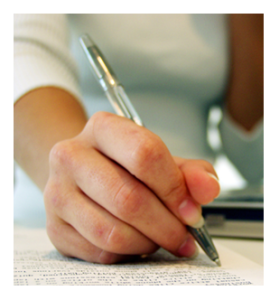 Yes. Sit. Savor your favorite ballpoint pen, or better yet, a sublime Waterman fountain pen (oh, a woman can dream). Let the ink flow languidly across the page. Take pleasure in the act, in this art of correspondence. Including, the writing of a thank you note.
The art of correspondence
Did you know that Thomas Jefferson was an inventor, and an avid letter writer? He utilized what was called a two-pen polygraph (his first was received in 1804), which served as a copying machine for his documents. The contraption was brilliant, and invented (and patented) by Englishman John Hawkins.
Jefferson was continually refining the original polygraph (my, but some of us must tinker, tinker, tinker), which enabled him to retain a copy of his hand-written letters. And if not for the painstakingly penned correspondence left to us by famous lovers, artists and writers, politicians and scientists, and so many other important figures, how else would we acquire such a personal slant on history? One which precedes the photograph, film footage, or the recorded voice?
The thank you note
I have always loved writing by hand. Long letters, in cursive, to my friends. For years (even with phone and email), this is how some of us have kept in touch. It feels good. And it says "I take the time to put my thoughts and feelings to paper."
Receiving a thank you note is more than an act of good manners or a celebration of fine papers and pens. It is a tangible object that commemorates a moment, and records appreciation for a gift – large or small.
How to write a thank you note
We could turn to etiquette books a-plenty for the formulaic method of thanking someone properly. Perhaps this is necessary in certain social circles, or in the case of thank you notes following weddings or other celebrations of specific social significance. But find your comfortable chair, your feel-good ballpoint, and just do it.
The most important elements of a thank you note?
mention the gift
mention what it means to you
thank the person by name
be sincere
Thank you Amber, Eva, and Suzicate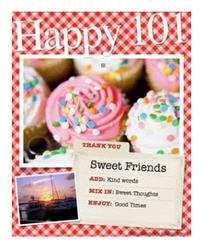 I cannot write these words on my favorite note cards or stationery, so use your imagination, please. Picture this page monogrammed if you'd like (with a florid BLW?), or ruby red (I love red writing papers!), or a soft, off-white linen (for more serious occasions).
Now imagine I have an elegant writing instrument in hand – perhaps a fine fountain pen, plucked out of a wide array displayed in a Parisian papeterie – a stationery store, the sort I browse hungrily whenever I'm in France.
And with that, I'd like to express my appreciation to Amber once again for the Happy 101 award (and this time pass it along), Eva for the Sunshine award, and Suzicate for the Beautiful Blogger award.
To each of you, my sincere thanks. I am reminded what a wonderful community this is, as we share our words and our worlds, and learn in the process.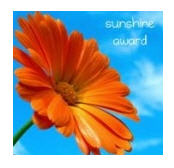 I'd like to pass these noteworthy honors on to one writer each, and ask that they pass them along to someone who makes them happy, spreads sunshine, or offers up beauty (one way or another), respectively. Pass them along to one or more writers, as you choose. (Yes, I'm tweaking the rules just a bit.)
Writing that delights
It's not easy choosing among the witty, thoughtful, honest, and provocative writers I read daily, but here are my picks. I hope you'll take pleasure in getting to know them, if you don't, as yet.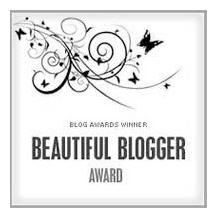 Happy 101: to Nicki at Nickis Nook. My hat is off to her for raising six kids and living to tell about it (much less writing about her life and making a living at her writing). Her heart is huge, her posts cover all manner of interesting topics, and stopping by always makes me happy. What could be better than that?
Sunshine Award: To Belinda at the halfway point, whom I've discovered only recently. Her questions and musings are profound, and her prose is luxurious, as she deals with the concrete and the ethereal, and meticulously interweaves the two.
Beautiful Blogger: To The Wild Mind, whose vibrancy and passion for life shine through every post, whether she's dealing with big questions or little ones. She makes me laugh, and she makes me think, and she accomplishes both beautifully.
Two last notes
First, you have all been so kind in your comments and emails. It's been a very long, very rough week. Knowing there are good, generous people who read and write (and become friends) – it helps. Tremendously.
Secondly – and this is for fun – I stumbled across this writing simulator on the Waterman site. You can simulate writing with one of their glorious luxuriant pens (ultra high-end), and you can send the simulated writing to a friend with a copy to yourself. How cool is that?
So thank you, again, Amber, Eva, and Suzicate. Thank you everyone who has been so thoughtful. And thanks, Waterman!