Alexander McQueen, 40, takes his own life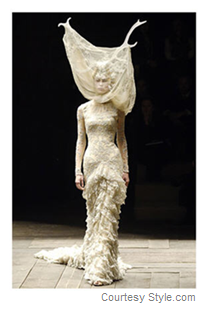 Sumptuous. Elaborate. Theatrical. Audacious.
These are some of the words that come to mind when I think about the fashion of Alexander McQueen, the 40-year old British designer who was found today, reportedly dead by his own hand.
I follow fashion peripherally; at its best I believe it is a breathtaking and living art form – blending design, color, texture, function, psychology, culture, history and often, performance.
Fashion is "wearable art," and for many of us, important to our nascent sense of identity when we are young.
I have loved fashion since I was a child. While I have been less attentive to its whims and wonders in recent years, I certainly know the work of this extraordinary designer, dubbed the British enfant terrible in the nineties.
As I have read various accounts and tributes today in the British, American, and French press, the word "genius" appears repeatedly. Other quotes from the world of haute couture include mention of a "pessimistic streak." There are references to the recent death of the designer's mother, as well as the 2007 suicide of Isabella Blow, who brought McQueen to prominence and was a longtime friend.
(Incidentally, this "short & sweet" fashion image is Isabella Blow.)
Fashion world, creative genius
When I first read the breaking news of McQueen's suicide, I flashed to the quintessential creative mind, to those who are deemed "genius" and who eventually take their own lives. Perhaps it is through suicide, or gradually, through self-destructive behavior and addictions.
Many say that there's a fine line between creative genius and madness.
And the link between brilliance and a dark side? Is it the proverbial chicken and the egg? Where is the blurry line between genius and psychosis? Or do we simply overlook severe emotional problems in those who attain success at their creative pursuits?
Writers and artists who cut their lives short come to mind: poet Sylvia Plath, novelists Virginia Woolf and Ernest Hemingway, painter Vincent van Gogh.
How many others whose luminous accomplishments share the stage with their demons, or were partially eclipsed by their own shadows?
Selfish act?
I think about the contagion of the act of suicide itself, and the ripple effects that alter generations to come, and those who are part of the connected world of the one who chooses this sort of departure. One can argue that ending one's own life is the ultimate act of individual will, but is it also the cruelest act of selfishness, even if unintentionally so?
I have witnessed the tragic aftermath of suicide. I have seen the troubled years that follow for parents and children, for friends of the family who are left behind to clean up, left with perpetual torment over what was said and unsaid, over what they might have done differently.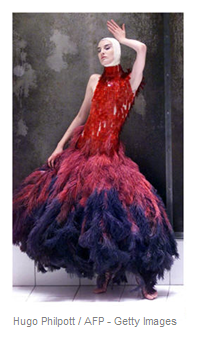 Those who find a loved one who has taken his own life are irrevocably changed, haunted by images as well as questions. Lives spiral downward into self-abuse and depression, and I am reminded of this, reading these early accounts of acclaimed fashion designer Alexander McQueen.
Is genius doomed?
Is suffering a requirement of the creative mind?
Does brilliance always flirt with darkness?
Is death by one's own hand the ultimate selfish act?
I am saddened by this news, not only for the loss of unique talent, but for those who will carry the burdens forward, wondering if there was something they missed.

Big Little Wolf's Daily Plate of Crazy