Remember Dr. Ruth? What ever happened to the pint-sized sexpert who so sweetly answered everything you always wanted to know about sex, and I don't mean Woody Allen-style?
Whatever happened to. . .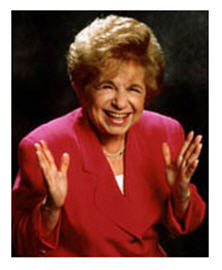 Don't you love those "Whatever happened to" stories and series? I do. Well… sometimes. Other times I find them annoying. Or worse, depressing. (Will someone someday be saying about yours truly – whatever happened to that mouthy, French-sputtering stiletto-obsessed little wolf??)
Fact is – I was wondering what the once pioneering petite pop icon of sexuality was up to. (Four foot ten?) In fact, I always found Dr. Ruth Westheimer quite delightful. She was ahead of her time in speaking frankly about sexuality on both her radio show, and her television series, Ask Dr. Ruth, while informing us of all manner of topics with grandmotherly demeanor and charming candor.
Hostess with the most-est?
Believe it or not, Dr. Ruth recently popped up on cable, introducing a film on Starz on Demand! A lovely prelude to one of my favorite chick flicks, Bridget Jones Diary. While the diminutive doctor was ravishing in her red suit, she cheerfully responded to the question "How much sex is too much sex?"
With her winning smile and delicious accent, she replied (paraphrased) "…  if you spend 7 days a week in bed, you do need to get up sometimes to eat, support yourself, you have to have some hobbies… but in general, there is no such thing as too much sex."
Hobbies. Noted. Perhaps when Oprah steps down Dr. Ruth needs to return to the large screen?
The lost G spot dilemma
On a related topic – oui, recent readings of global import (yes, French news), L'Express reports that a British study is claiming that the G spot is, in fact, nonexistent. The French, however, are in disagreement, and pursuing a study of their own. (I do step off Planet Fred for all the hottest world news, naturellement.)
And apparently I haven't been keeping up with other necessary news. As of last fall, anyway, 81-year old Dr. Ruth was teaching at both Yale and Princeton, according to the celebrity news in Boston.com. Shame on me for not knowing! You can't keep a good woman down!
So I wonder where Dr. Ruth is positioned on the G spot?