Are your dreams on hold? Are you floating in a perpetual state of waiting? One more number? One more indistinguishable face in the crowd, chasing through an exhausting schedule that seems like nothing more than clocking time?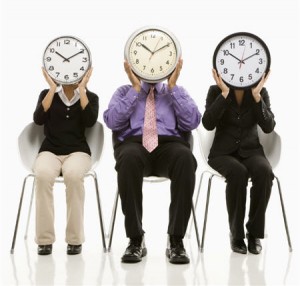 You're following the hour hand and the minute hand with your eyes, listening to the slow ticking of time's indifferent tally, its looping course and in no hurry when you're in a state of wait. Then time scurries cruelly, and your chest tightens as days overflow their container of tasks.
So you're counting down the hours until something is finished and you're on to the next. Counting down the minutes until you begin again, from yet another starting line.
Schedules vs dreams
How long until the baby's nap, until you can leave your desk for lunch, until it's time to get in the car and clock another commute through traffic? What next, after picking up the child or two or three, minutes for hasty and distracted exchange, defrosting a roast, clearing the table after dinner, a glance at the clock as you calculate the schedule for homework, for baths, for checking your emails?
Relationship? Is relationship on its own clock, squeezed into a slot, scattered around the other musts and shoulds of parenting and earning?
Only two months until the long weekend, ten weeks until taxes, five months until the final exam, three months until the doctor, four years until vesting, eight until retirement. Until, until, until. . .
Watching the clock
My parenting job has another twenty months on its timer. My body is worn; time drags and time disappears, as it has for 18 years. There is only this: my younger son to fly the nest; the knowledge of two children, launched; then, whatever comes next.
I will have watched the clock and clocked my time. Schedules versus dreams in a constant trade-off. Responsibilities versus passion when I permit myself to decipher a day, a day of putting in time, doing the job: the new job, the old job, the next job. These are the necessary concessions of ordinary life.
Putting in your time
We put in our time as children, waiting for adulthood. We put in our time as adults, chasing and working the next opportunity, waiting for the big break, for the encounter to lead to "happiness," for the promotion, for the romantic interlude, for the right amount of months or years in a relationship. We put in our time in marriages, as though the arrival of another anniversary should be reward enough. By then, we do not scrutinize; if we're fortunate, we are dulled by clocking time.
We watch and worry and cradle the child's heart; we nod and listen as growth flutters under our wing. We nourish and instruct, we guide and discipline, we hold and release. We count these moments preciously, when we can, even as we're clocking time.
What are you waiting for?
When we reinvent ourselves we are required to prove old capacities and new competence, to fight so we may regain ground. To trace the hands around and around the face of the clock. This is the inevitable, the tedious, the natural, the acceptance of contemporary life. Our analysis of self and day and stage is steeped in the awareness of time, bound to cycles, to rhythms, to tides.
Are you in a state of waiting?
Are you setting aside a dream?
Are you on auto-pilot?
Is it only natural that we all clock time?