Tennis, finally
It's just after midnight in my part of the world, but I had to hang on to watch defending Australian Open tennis champion Serena Williams tough it out against China's Li Na in two grueling sets.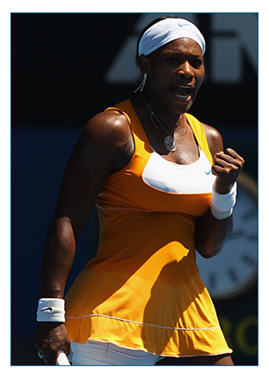 Serena's serves were a thing of beauty – 12 aces in this match. But it was the second set that had me sitting up and tense. Serena appeared to be struggling, but 5 match points finally brought things to a close in a second tie-break, as Williams moves to the Finals of the 2010 Australian Open, to defend her title.

Tennis aces, and new faces
Oh those aces! Serena's twelfth, to close out the match 7-6 7-6.
And two Chinese tennis players in the semis? Big news – and Li Na was a pleasure to watch on the court. After all, she took out Venus Williams to get there.
Up next? Justine Henin, the diminutive Belgian who retired at her prime, with plenty of titles under her belt. Now trying to come back from retirement like her countrywoman, Kim Clijsters, winner of the 2009 US Open Tennis title.

West Coast tennis viewers. . .
More sports drama in store? Oh, I'd love to stay up and watch it live! But I imagine I'll be viewing a recap video, sometime tomorrow. (Maybe I can keep my eyes open and on the ball a little longer. . .)
West Coast tennis lovers – you lucky devils – enjoy! And Serena – you go girl!