Are you part of a non-traditional couple? Committed or married, but not actually living in the same residence as your partner?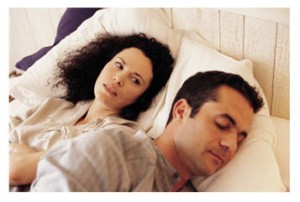 Living together can be tough. Very tough.
I'm reminded of an early episode of Sex and the City, in which Sarah Jessica Parker's Carrie asks her love interest, Mr. Big, what his ideal living arrangement is. "This," he says, lying next to her in bed. "You have your place, I have mine."
Yes, it's television. And yes, they were early in their on-again-off-again romance of many years. But is the former Carrie-Big rooming arrangement for you? If you're exclusive, engaged, or even married?
I was perusing one of my favorite French sites last night, and came across this article on couples who live together, separately. Huh? So how does that work exactly?

Recent study on family living arrangements
According to the study, some 10% of French couples are successfully living apart. They are not cohabiting.
The article cites several issues as factors in this sort of arrangement, with both the young (18 – 25) and those who have divorced (including 40+) seeking more independence. That means not sharing an address, even as a committed couple.
Of course, in American society, living together (without marriage) remains problematic for many. Then is living together – separately – what we're actually doing in a relationship? Nights together, a drawer or two, but no consolidation under one roof?
The French study implies that couples are increasingly choosing this route. Taking time to ease into marriage (without cohabiting first), and with professional considerations playing an even more significant role.
Sex and the City, French style?
I think of Carrie and Big again, of his preference, if not hers, for separate addresses. He wasn't ready for something more serious at the time. This, however, is something else.
In our go-where-the-job-is society, is it inevitable that living separately will become more commonplace, whether we like it or not? Is the economy at the root of committed couples who retain separate residences?
If you each have a good job but in different cities, or even states, can you afford to uproot and upset the financial apple cart? Will threatening professional stability throw off the relationship dynamic, or will you crumble as a couple if you aren't under the same roof? And what about children in remarriage scenarios?
Separate households vs separation
Perhaps your fiancé cannot move, or you can't. For some, traveling jobs keep partners apart. But with all the communication methods available, that doesn't mean out of touch or out of luck.
Can any serious relationship be sustained if you're separated frequently, or for long periods? What if you're living together – separately? Each retaining your own apartment or home, even if nearby? Are there advantages, particularly if you're older, or you both have demanding careers?
The French article does not address the issue of children; certainly, that complicates things. In this country, it could be part of the reason for such an arrangement. But purely in terms of relationship, do you find this a surprising trend? Or predictable, as society changes?
Would your relationship survive a prolonged period of living under separate roofs?
Can you imagine circumstances in which it would be your preference?
What about jealousy? Mistrust?
What do you think? Are arrangements like these unrealistic, pragmatic, or a growing socioeconomic reality?
You May Also Enjoy