I'm not sure how you found me – but I thank you for doing so! I'd like to express my appreciation for being included in your "101 Women Bloggers to Watch in 2010." I've placed my writing award in the upper right region of my sidebar, to remind me to continue searching out whatever may be of interest, inspiration, entertainment, or discussion at my Daily Plate of Crazy.
I look forward to living up to the expectations of your magazine, and surrounded by such a keenly thoughtful group of readers and fellow writers – at Motherese, A Design So Vast, Ivy League Insecurities, On Three Kids, Here Every Moment Counts, Momalom, Femme d'un Certain Age, Random Musings of the Wild Mind – and so many others who join me in this virtual neighborhood. I know they'll keep me on my toes.
I also look forward to exploring the 100 other fascinating picks your magazine has recommended, and to spending more time enjoying your informative articles of particular interest to women.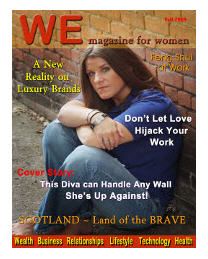 I hope those who read here will venture over to explore the terrific women writers that WE Magazine has recommended in their 101 Women Bloggers to Watch for 2010.
I am so often in my swirling sea of words, I look up and it seems that days have gone by. So thank you, Elizabeth at Irreverent Musings, for letting me know about my inclusion on the WE Magazine list!
Cheers to all,
BLW
…