It's been more than a month since well-known blogger, Anissa Mayhew, age 35, suffered a massive stroke. She is wife to Peter, and mother to Nathaniel, Rachael, and Peyton.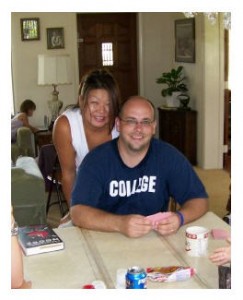 Anissa's husband began to chronicle the watching and waiting, the slow progress, and the arduous battle that the family is waging. Anissa continues to improve.
Please read what Peter Mayhew has to say as he keeps us updated, and it sounds like there was plenty to say about Anissa this past weekend.
For right now, what Peter asks of all of us, whether we know them personally or not, is to assist in the long fight ahead. A fight against depression and frustration.
He'd like us to join the Mayhew family in what Peter calls "constant, overwhelming motivation and reminders of love."
Let's do that. In any way we can. However we send out our energies into the universe, to those we know and don't know. To those who need us. And keep reading about Anissa, including what her husband had to say this morning, in "firing booster rocket #3″ as their fight continues.
There's no question Anissa is making remarkable progress, but let's keep her in our thoughts, and find creative ways to do so. And perhaps near you there's someone else who needs a hand. A parent. A child. A friend. A stranger.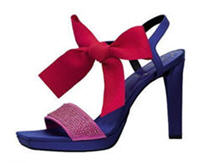 It can be as simple as a smile, an ear, a phone call, a quick visit, an email. A presence.
As for Anissa, I am going to picture her up and out with her husband, dancing. Anissa and Peter dancing, in 2010. And for that – you got it – she's going to need fabulous shoes. Not any shoes mind you – breathtaking shoes – quite possibly red, or sparkly, or va-va-voom with feathers and sequins.
I may not be able to "foot" the bill on those magical shoes, but I'm going to offer her a little selection – right here. Dream shoes, for a dream dance. Because it won't really matter what she has on her feet, but in 2010, she and Peter will need to go out on the town. And dance. Just because.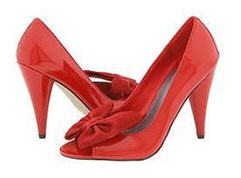 Peter says that Anissa is a woman who can move mountains, and she seems to be doing exactly that. Perhaps we can continue to help, and move mountains of our own, with focus and community and vigilance.
So, Anissa and Peter, think hot shoes. Think dancing. And meantime, when you're enjoying your Mayhew Family Hug at Christmas, I hope you enjoy these hot shoe picks as one more motivation. Your tango or salsa is expected in the New Year. Imagine the smiles when your kids get a load of that!
(Peter – you're on your own when it comes to your footwear. But keep in mind – real men don't wear pumps!)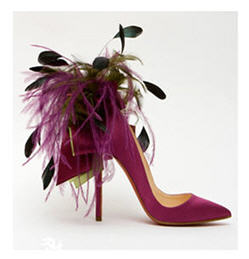 And we'll remember – constant, overwhelming motivation and reminders of love. We'll send some your way, and keep our eyes open for others who could use a little. It's not hard. And 'tis the season, every season.

…