Sometimes our children surprise us. Really surprise us.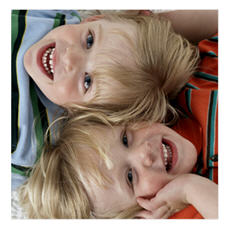 I remember my older son defending his much littler brother against a bully, a kid who was beefier than both of them put together. But my first-born threw himself into the fray without hesitation, and got the bully to back off.
Flash forward nine years. That bully is one of my 16-year old's friends, his tough guy stage long behind him. As for my "little" boy, it's his courage – emotional courage – that astonished me last night. 
A conversation
"I want to ask you something," I say. He raises an eyebrow.
I'm sitting on the couch with my computer. He's sprawled in a large armchair, next to me.
"It's nothing embarrassing," I say. "But I'd like to know. If I could do one thing differently to parent you better, what would it be?"
I pause. "Keep in mind I reserve the right to disagree, if I don't think it's in your best interest."
My son's response is immediate. It has nothing to do with my parenting in general, and everything to do with the specifics of a stalemate concerning his dad and me. One which puts him squarely in the middle.
I didn't put him there, and I have "legality" on my side. But it doesn't change the fact that he is where he is and understandably, he hates it. As expected, he's being pressured to "work me" until I give in though he may not recognize it as such. I do. I know who and what I'm dealing with, and I've given in for years.
It would be easier, but it isn't in his best interest for me to do so.
"It's not my doing," I say.
"Well Dad says…" and he recounts what he's been told.
"That's not the truth."
He starts to squirm in the chair, and my stomach is knotting up.
"You say one thing, Dad says another. Who am I supposed to believe?"
We'd been through this, ten days earlier, and it hadn't gone well. He was angry, I was in tears, and nothing was resolved. This time I am calmer and for some reason, I don't hesitate. I go straight to a thick file on a nearby table, and pull out photocopies of documents, checks, and an 8-year old support agreement. I point to key numbers and paragraphs. He isn't a child any longer. I shouldn't treat him like one.
He reads; I see his expression change. It's hard to argue with what's in black and white.
For every action… a reaction
He sets the file down, and places his palms over his eyes as though he doesn't want to see. He sinks his head into his hands for a moment, then looks at me. He seems, suddenly, so tired.
Silence.
"Do you know how much I love you?" I say.
"Yes," he answers.
"You know your dad loves you, too, right?"
"Yes."
And he's quiet again.
"So what do you want me to do about this? What do you want me to say to him?"
"Talk to him. Now you have facts. That's all."
I'm silent.
For a moment I see the little boy. His fragility. The 8-year old that I spent three years putting back together after his father left. The 12-year old who said: "I love being a kid. I'm in no hurry to grow up."
Eventually, we must grow up.
"I need food," he says, and heads to the kitchen, opening the fridge and foraging for ham, mozzarella, mushrooms and spinach leaves. Then Chicago bread.
"Did you know that mushrooms are good for the prostate?"
I laugh.
"I had no idea," I say.
He's trying to lighten the mood, puttering around the stove, cooking his version of croque-monsieur sandwiches, chatting a little. Then we eat, and turn back to more serious topics: expenses, debt, college.
He offers to get work after school, to do whatever he needs to in order to help out. I tell him his job is to excel at his studies, and $6/hour for 10 or 15 hours/week – as much as I appreciate it – isn't enough to justify compromising his academics.
Seeking Solutions
"What about portraits, if I got more commissions?" he asks. "That would pay enough to make some difference, wouldn't it? And you'd get me clients?"
"Yes."
"Then let's do that," he says.
He gets up, puts his dish in the sink, and digs his cell phone out of his pocket. "I'm going to call Dad."
He disappears into his bedroom and closes the door. He raises his voice a few times – something I've never heard him do with his dad. He emerges two hours later, sullen and saying nothing. I don't know precisely what was discussed or how it went. He'll tell me when he's ready.
It's not over; I know his father. But perhaps what really matters is this act of bravery, the courage it took to stand up for himself, for me, and for what's right. This time, he took on the bully.
It's hard to imagine we can love our children more, but today, my love for my child is bigger. That's not eloquent, but I'm not feeling eloquent. I'm feeling raw and sad and worried. I'm feeling proud of my son. He's not a little boy any longer, yet I know I'll need to shape my love around him tenderly as he deals with the inevitable fallout – and pain – of shattered illusions.
You May Also Enjoy