What if you were a wall, a blank canvas, a work of art yet to be created?

If you haven't already, peek at Joy Part 1, and then…
Imagine… You are a broad expanse of wall – indoors or outside – material of your choice, and located anywhere in the world you'd like. Your surface is ideal for absorbing images and words, and showing them off as your own personal masterpiece. Showing off yourself as your own masterpiece. Now what?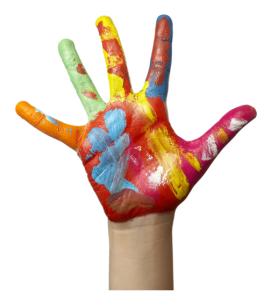 Create yourself! Feel the joy!

Here's a can of Krylon spray paint.
Go!
What? One won't do?
Okay then, select five, and enjoy your afternoon. Decorate yourself! Some of you have done it already – in smaller spaces – with tattoos. Some of you dream of having the courage to do it with tattoos.
(And some of us would rather be a wall, and skip the tattoos, thank you very much.)
Well this is your chance to get wild! Cover yourself entirely, or leave areas untouched. You are the blank canvas: pure graffiti, figures, markings, quotes, formulas, diagrams, masses of color, quotations, T-accounts, HTML if you like!
So tell me –
Are you an outdoor wall or an indoor wall?
Where are you located, and how are you lit?
What colors have you chosen?
Have you asked for help in creating yourself?
Who do you want helping you?
If you were a painting, which painting would you be?
Do drop in to visit later this afternoon (I'll have coffee waiting), and then describe what you've become. Tell me what adventures have taken place in your afternoon of painting. Declare yourself – visually, texturally. See what happens.
For fun:

This is a TOTALLY fun site where you can experience Jackson Pollock and the pleasure of splattering and dripping. It's a blast! Give it a shot.
As for me…
I'm going to think about this, too. I may be in a very hot ruby red mood, masses of brilliant, clashing color. Yes. That's what I'd like today, with a gentle, smooth surface, and light line scrawled through me. You need to approach to read me, to decipher the cursive that I will wear draped, dribbled, laced and luxuriant.
More than that? I don't know yet. But I'll ponder it, slowly, and otherwise, spend this day in the moment. Picturing paintings by Vlaminck, Matisse, Jorn, de Kooning, Guston, and the wrenching masterpieces of Michel Macréau. Color and emotion. Glorious, exuberant, mysterious, rambunctious, sprawling, enigmatic, mystical, mythical moments. I'm feeling fauve. Joyfully.
Just because.
Your artistic self?
Your unspoken, truest portrait for all to see?
Big Little Wolf's Daily Plate of Crazy