Boys don't make passes at girls who were glasses. Or do they?
Well men sure do!
Sexual attraction is inexplicable, elusive, magical, and for some, it's embarrassing to talk about. It's difficult to put into words what attracts you – and what you might like to explore and enjoy.
But not to worry! Here's your chance, and it's just you and me. No one's listening. No one at all.
Really.
You can even whisper if you like. Just type very, very gently.
Come on, you can do it. Let's talk…
Understanding sexual attraction
How do you explain what draws you to a man or woman? Is understanding sexual attraction really as simple as pheromones?
I don't buy it.
That may be a partial answer, but I think sexual attraction demands a complex formula to draw more than a passing look. Is it a tone of voice, a glint in his eye, the graceful way she crosses her legs or runs a fingertip across the surface of her lips when she's deep in thought? Is it his humming when he's happy, or just the sight of his hands, then imagining what they can do to you, for you, and with you?
Sources of attraction – common or comical?
Hot for a clown costume on your beloved? Probably not. Then again – if it incites a roiling riot in your most passionate heart, it may indeed bring on a festive and impromptu meeting of more than the minds.
Does laughter get your juices going?
Or do you succumb to moody and mysterious moments? To surprises of the romantic sort – complete with a late supper served in bed? Are you putty in his hands when dealing with exotic erotic episodes, like Hot Mama in her thigh-high boots, a corset (from Dorset), a hint of spicy fragrance, and that little smile that reminds both of you of anything but the Mona Lisa?
What are your top 10 sexual fantasies?
Have you pondered your fantasies lately? Might they be worthy of a few tipsy scribbles or two, perhaps to place under the pillow of your personal partner, to… assist with research?
In fact, men and women share more sexual fantasies than you might think, and here are some of the elements that  often come into play in sexual attraction, sexual play, and sexual fantasy:
humor
trust
flirty dirty talk
role play
costumes
unusual locations
the unexpected
objets d'art
And surprise, surprise… some men have an affinity for women with nerdy glasses. So, could that special sparkle you can't quite define be anything? A mole on his cheek? Her laugh lines? The way he looks in his old jeans on a lazy Sunday morning?
What convergence of character, context, and sensory suggestiveness gets your rambunctious readiness revving?
Sex toys – Vive la France!

Ah, but I once promised a French sex toy study (and a revelatory exposé, naturally), but that's no small feat long distance. And it requires properly researched references in France, of course. I am nothing if not a stickler for facts, like any good journalist. But I'd welcome a lively discussion of the delicious fantasies hidden in your virtual (or actual) goody closet, some that you may have dared to enact in conjunction with connubial communication, or perhaps in other romantic relationships.
And if your post marriage, I'd be curious to know if you have felt freer to explore, and to have fun with your sexuality. (I will confess, to get things rolling, that I certainly found post-marital marvels I missed before midlife! )
As for favorite fantasies and spectacle spectacles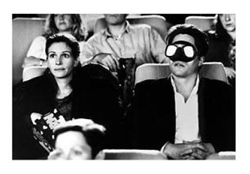 I've encountered the glasses sexual fantasy more than a few times. Hugh Grant in those goggles? It was so silly that humor alone made me want to give him a tumble.
And yes, I'm happy to report that many men attest to a distinct affinity for a woman with nerdy glasses – and imagining what happens when they come off. If only I'd known that years ago to mitigate the childhood teasing and two decades of contacts!
So gentlemen – spill! Let's hear your fantasies on spectacular spectacles, and their outrageous or adorable origins.
Might there be a recollection of a second grade crush on a sweet teacher? The secretary-morphs-into-vixen scenario, circa 1955? Are chignon and hairpins a requirement? (I've got them. Will it help my love life??)
Does anyone else remember "How to Marry a Millionaire" when blind-as-a-bat Marilyn Monroe finally puts on her glasses, and the man who adores her says she looks beautiful?
Strange sources of attraction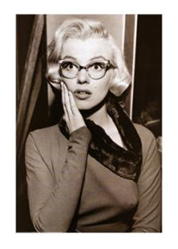 I don't kiss and tell, but you can bet that lingerie and great shoes are part of my grownup playtime. I also adore unexpected locales (within reason). But believe it or not, there's nothing quite so hot as a good man in comfortable jeans with a big smile of appreciation.
Isn't that what we all want? To be seen and savored for who we are?
So tell me –
What draws you to your lover or spouse?
Do you believe the old adage that opposites attract?
What fantasy foibles do you still imagine in your ideal partner?
For those who wear glasses, are you getting passes?

Big Little Wolf's Daily Plate of Crazy