I'm hearing noises. No kidding. Scary noises.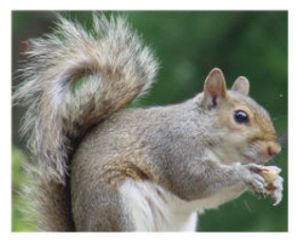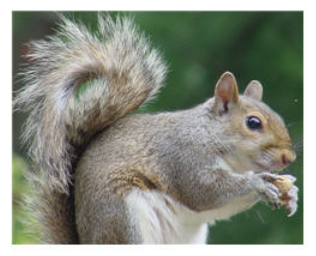 It's not quite dark and though it's breezy, branches scratching against the windows, these are other noises. Scrambling, scurrying, creature noises, overhead. And I've been hearing these sounds for about two weeks. Now let's face facts – while I don't drink absinthe (which may scramble anyone's sense of reality), I admit to an overactive imagination, sleep deprivation, and caffeine excess. Nonetheless, I have to ask – are there squirrels in the attic, or am I losing my marbles?
Squirrels
I do believe there are furry tailed acorn nibblers square dancing overhead. The alternatives? Ghosts. Raccoons. Bats.
(Shudder.)
Any advice on squirrel control? Maybe I ought to find some ear plugs and call it a day, and night?
Rodents
Theoretically, it could be mice. Or rats. Or who knows what.
(Double shudder.)
This is when I wish I had a hulking someone in my life – preferably in the next room – who would go boldly where I will not… and check out the noises in my attic. Any volunteers to stop by with assorted cages and mitts to track down whatever is living up there? Who am I gonna call? Ghostbusters?
Marbles
Maybe there's nothing in the attic. Maybe I could bury my head in the proverbial sand awhile longer. Maybe I will chalk it up to losing my marbles after all. Speaking of which – whatever happened to collecting marbles? And what is the actual origin of the expression "losing your marbles" anyway?
I didn't care for the game as a kid, but I loved the marbles themselves – agate and rose quartz, jade and onyx, crystal spheres that were smooth to the touch. I had some beauties that I kept in a small blue box once upon a time, but they've long since disappeared. Yes, I've lost my marbles, dammit.
Humane removal



Back on point: check this out! Apparently this man is the educational squirrels-in-the-attic expert. After reading his site, I'm now convinced there's a little family teething on my stacked heels, strappy sandals, and other shoes stored in boxes under the rafters of the roof. Surely they'll be munching on the electrical wires next, and that's bad news.
I wonder if the squirrel guru is available in my area. Besides, his site features squirrel poetry! Now that's a winning combination. Humane rodent removal + critter verse. What more could a girl want?
Help!
Anyone have any critters-in-the-attic removal experience?
Can you relocate them, without hurting them?
Must I make them a tent city for winter?
Hmm. I wonder if I could bribe them out onto the roof with chocolate.