What were the 60s about? As the viewers of AMC TV's Mad Men are aware – the appearance of one thing, and trouble, trouble, trouble, seething beneath the surface of everything.  With each episode, the glitz and glamor are increasingly overshadowed by secrets and seedy behaviors.
60s Prejudice
In Episode 9, Sal falls victim to coercion and prejudice, the result of his homosexuality. Clearly, Don isn't judgmental when his Art Director's preferences don't interfere with business. But if they do? Sal's on the spot, whether he "did it" or not – and out, out damn spot!
We're also given Carla, the housekeeper, listening to MLK on the radio, and previously, the school teacher (Miss Farrell) mentioning the I Have a Dream speech. More reminders that the Civil Rights movement is underway.
Power
While Betty Draper toys with the idea of an affair, Don (Juan?) Draper plunges into another with his usual sense of entitlement. Power and privilege of a different sort.
But didn't he and Betty just have a romantic getaway in Rome? I'm plenty into Dapper Don, but miffed at his perpetual wandering. You'd think he could keep it zipped a little more often, particularly with a gorgeous wife who seems willing and able, not to mention – with a fainting couch nearby.  

Then there's Conrad Hilton, who exercises his big bucks power position in the Sterling Cooper hierarchy – after all, in advertising, clients rule the roost – and Hilton knows it.
Pretense
Pretense? It's impossible to ignore the deceiving detours at every turn – the personal (both Betty's and Don's near and actual infidelities), the political (the office politics at every level), and a dandy assortment of secrets these characters keep close to the vest. The most significant among them, Jon Hamm's portrayal of a success story for both public and private consumption – our hero, who has actually assumed a dead man's identity.
We may look back at the 60s with a certain nostalgia, but Mad Men is allowing us clear view into the social inequities (and changes) leaking into everyday life.
Just wondering
As for additional insight into the Don-Miss Farrell pairing? It strikes me as an odd relationship. Oh, she's lovely enough – smart, sexy, and spreading her honey in the vicinity of Don's busy bee tendencies from the beginning. But there's something "off" there.
She may provide an interesting combination of liberal leanings and propriety, offering some contrast with the more upper crust Betty (perhaps that's part of her appeal?) yet the chemistry in that coupling seems missing.
As for Betty
And January Jones as the ofttimes glacial Betty? Talk about pretense! In Episode 10, locked away in his desk drawer, she discovers her hubby's divorce papers, dog tags, snapshots – and indications of the depth of his double life. She sits up waiting for him to come home (he doesn't), keeps it all to herself (temporarily), and still attends the company shindig as the ever elegant trophy wife. It's all part and parcel of the times, and her ability to keep things in check – for the sake of appearances.

Images courtesy AMCTV.com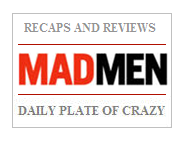 For more musings and reviews on Mad Men, pop by here.



© D A Wolf