It's another frugal feast for four!

My 16-year old skinny-as-a-stick-kiddo who eats non-stop would wipe me out if not for cheap, easy eats! But he's got a discriminating palate. Not just anything will do. We need tasty, filling, healthy and affordable. And I need quick to prepare, with little cleanup.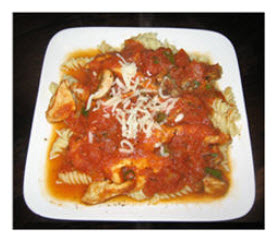 Remember the two for 20 in 20? That's two recipes for $20 in 20 minutes.
Cheatin' Chicken Cacciatore is another big meal you can make in about 20 minutes, for well under $20. It uses one pan, one pot (for pasta), and generally costs me about $15 where I live (an urban area – which means nothing is inexpensive).
If you love pasta, and you love a hardy Italian meal, this is a good one for you and your family. And if you just want to skip to the good stuff, move directly to the Cheatin' Chicken Cacciatore pictures!
We love Italian (I grew up in an area with phenomenal Italian food) – and while Chicken Cacciatore done "traditionally" calls for braised chicken and more time (sauce from scratch), this works for us, is delicious, and inexpensive.
Ingredients: Cheatin' Chicken Cacciatore
Remember: Total cost: approximately $15 – feeds 4
4 medium to large chicken breasts
Margarine & seasonings (garlic, pepper, basil, oregano, rosemary)
Mushrooms, any kind (optional)
Shredded mozzarella cheese (optional)
Fresh tomatoes, any kind (optional)
Red, green, yellow bell peppers (optional)
Green onion or scallions (optional)
Your favorite pasta (1 box, angel hair or other)
Use 10″ or 12″ sauté or fry pan, depending on how much chicken you're using and how many people you're feeding. (I know, I know – only 3 breasts shown, but use 4 for 4 people. And leftovers keep well in the fridge, if covered.)
As you're about to get started, fill a pot with water to boil, to make your pasta. You know how to cook pasta, right? Right. (And we don't actually add salt, though "real cooks" say you should.)
Directions:
It's fast. Really.
Slice or cut chicken breasts into smaller pieces. (It makes everything go faster.)
Throw 1 or 2 tbsp of margarine or butter in the pan, high heat. Toss in (boned, trimmed, sliced) chicken, browning if you like a bit of searing. Season with pepper, garlic pepper, basil, rosemary, oregano or any other spices you like.
What makes this dish "cacciatore" – which is really a hunter's stew? It's the combination of tomatoes, onions, mushrooms and bell peppers. We just chop them up, using bell peppers of whatever (colorful and sweet) variety we can get, likewise the mushrooms, and red onion.
Turn the heat to medium or medium-to-low. Add in your chopped veggies. Stir a bit to make sure everything is cooking and not burning.
Add 1 full jar (24 ounce) of whatever sauce you like and can afford. These days, I'm wildly impressed with Whole Foods 365 brand options. We love tomato basil, mushroom, and other varieties.
You may also mix sauces to your taste. Sometimes I'll use half a jar of one, and half a jar of another.
Turn down heat. Add a small amount of inexpensive red wine (a little goes a long way – a quarter of a glass is plenty, for us). If you don't care for wine – just don't add it! Cover, and let simmer, stirring a bit now and then.
We also love scallions or green onions or parsley. (Okay. I love the parsley; my kiddo, not so much.) And the bright flecks of color are gorgeous against the red sauce). I cut a little bit of fresh green onion and toss it on the top a minute or two before serving.
Meanwhile – you're cooking pasta – whatever kind you love! We go for angel hair, or rotini. Drain the pasta, serve it on the plate, with heaping spoonfuls of the cheatin' chicken cacciatore on top. Sprinkle with more fresh ground pepper, garnish with a bit of fresh basil if you have some (smells heavenly and works wonders if you want to impress a date). Optionally, sprinkle shredded mozzarella (or your favorite shredded cheese) on top.
You're done!

Costs
These are estimated costs. Yours may vary a bit.
Chicken: $8 (for 4 large breasts)
Sauce: $3 range (24 oz. jar)
Spices: (I have these – they last a long time before you have to replace them)
Margarine or oil: negligible
Peppers, mushrooms, red onion, tomatoes: Again – I buy these weekly, and use maybe half of one bell pepper in this recipe, 1/4 of a small box of sliced mushrooms, a small amount of red onion, and 2 plum tomatoes. I make sure to use the fresh veggie portions in another recipe so they don't go bad. Cost? $2 maybe, for this meal.
Shredded mozarella (about half a (small) resealable bag: $1
Pasta: $1.09 for my favorite angel hair; $1.39 for my favorite rotini
NOT included – the little bit of wine. Get yourself something decent at Trader Joe's for very little money! Use a 1/4 glass for the recipe, and sip the rest.
Total: Approximately $15; when I go entirely organic, it's about $19.
And don't forget to check out the images of cooking Cheatin' Chicken Cacciatore. (No remarks about my messy stove, please!)