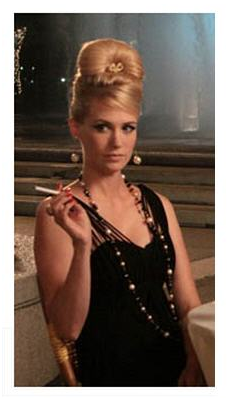 Quickie indeed. Just a hit-the-high-points Mad Men meditation on Episode 8, as January Jones turns up the heat…
Don and Betty take a quick trip to Rome and enjoy plenty of flirtation and connubial bliss. It was good to bite into a nice slice of this pulchritudinous pair at play, and play they did!
Bellissima e bello!
They are delicious to look at, aren't they?
Betty

Betty in elegant Italian attire makes quite a cuppa cappuccino, and the locals seemed to think so, too. Very Yvette Mimieux in The Light in the Piazza!
Don admires from the next table, as the couple pretends to be strangers while a duo of local men try to pluck the American rose. And mama mia, this ragazza can speak Italian! But handsome hubby succeeds at winning the lady's favors for the evening.
What next? Betty charms Conrad Hilton. And let's not forget – those were the days when a gorgeous, sophisticated wife was a feather in a man's cap and an asset to his career. Wait – it's still true!
Betty, Betty…
And for dessert, we're treated to a simmering scene of mutual marital seduction, and a glimpse of chemistry and comfort between Betty and Don as they linger in bed the next morning.
Betty, Betty, Betty
Throughout the episode, Betty's need for attention is front and center. She allows a furtive kiss from the attractive politician, just a few days before the romantic getaway with Don.
And when she enters the glittering lobby of the Rome Hilton? She seems to glow, and grow, completely at ease in a grander world.
I must admit, I have tremendous sympathy for this character. She's more than beautiful; she's intelligent, competent, and yearning to be part of something different. It's painful watching her parental style – so removed, but it's equally unsettling to imagine how confined she is as suburban wife and mother. She returns home to domestic skirmishes and daily problems, as Don disappears. Her world shrinks again, and with it, she must as well.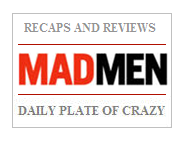 For more musings and reviews on Mad Men, pop by here.


Images courtesy AMCTV.com

© D A Wolf

Big Little Wolf's Daily Plate of Crazy