Some of our most memorable movie moments offer exotic locales and steamy spaces – sometimes on the go.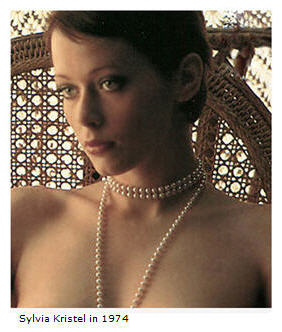 Ever fantasize about sexy strangers on planes, trains, and automobiles?
Not only do these scenes figure heavily in film and erotica, but plenty of people experience the occasional offbeat and… transporting evening.
All while maneuvering from Point A to Point B. And perhaps continuing on with the journey…
It's 1974. Paris. 

Released in Paris in 1974, an erotic film called Emmanuelle set the stage for bringing sexy scenarios to life on the big screen, and for the first time, garnering success with mainstream audiences. 
Place one delectable, vulnerable, and exquisite young woman – actress Sylvia Kristel – in a tale of sexual discovery, and it's hard not be hooked in a flash! Our heroine is elegant, open to adventure, and quick to learn. In an unforgettable scene on a night flight to Bangkok, a stranger glances at her as other passengers sleep. She looks back, drowsily. He approaches her, scoops her up in his arms, and carries her to the restroom where their exchange is very up close and personal.
It's fantasy, and it's hot!
Granted, on a commercial flight (even in the 70s) it's difficult to imagine coupling in such cozy confines. While this lovely episode defies the reality of today's airline accommodations, it leaves a lingering impression of possible membership in the Mile High club.
To a broadening male and female audience, this soft-core erotica held enormous appeal, and not only that scene!
Bullet train, anyone?



Ever seen the bullet train in Japan, or the TGV in Europe? The shape alone is, well… suggestive… of an enduring journey in dramatic and direct fashion!
Sexy? You bet. Designed for aerodynamics and perhaps, passionate pyrotechnics.
There's nothing quite like a bit of dream time on Eurostar, and not just in its testosterone-infused bar with dark, polished surfaces and cocktails to enhance the romantic ambiance.
Any seating is comfortable, but a private cabin may be best when you're looking for a trip conducive to a little quality cardio. If you don't have the money for solo, or should I say duo accommodations, you can still settle back with your blanket draped over your shoulders and torso, unwinding to the hypnotic effect of the whoosh and rocking of 300+ mph. Who knows – you may glimpse a bit of your neighbor's neck caught in the blur of passing light, or a hand that slips out from under the cover. And the train speeds along… bearing down through hills and wetlands, around curves and up peaks, passing in and out of tunnels towards its ultimate destination.
Strangers may dare to acquaint themselves, sharing more than a polite hello.
Do you think such enticing escapades are only for Europeans?
Not so. Remember those wry and seductive Hitchcock moments as Amtrak offers a brief respite for Cary Grant and Eva Marie-Saint training across country in North by Northwest?
'59 Chevy?
What could be more American than celebrating the automobile, whether it's a '59 Chevy, a pickup truck, or a minivan?
For some, we've loved on the run while undertaking cross-country adventures. For others, the leather seat of a comfy car may be where we learned to master the stick and a clutch.
Do remember – travel safely. Be mindful of moving violations. It is better to park and ride. After all, there's nothing so reassuring as a rest stop on a long journey, particularly if you need to check under the hood.
…

…