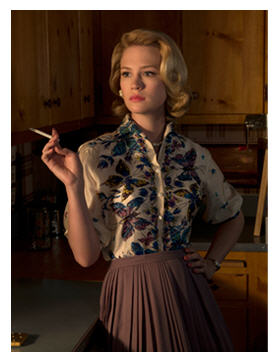 It's Mad Men night! I do so love my Mad Men. What's not to love?
They're gorgeous, glamorous, mysterious, and the psychological waters are darkening, pulling us in and under. But I watch for other reasons – probably like many viewers. I watch for the aura of the 1960s, either as we imagine it, or recall it.
For me, there's no doubt that memories are sparked when I see this meticulously styled show. Memories I couldn't otherwise access.
Spleen and great poets
I was a kid who drew Baudelaire, the 19th century French poet and critic. I also drew Twiggy, but we'll get to that in a minute. Suffice it to say that geeky kids in pearly pointed glasses don't typically draw Baudelaire, even if they do run math calculations in their heads, write furiously in little notebooks, and take pleasure in conjugating irregular verbs. (Not that I know anyone who did any of that.)
No doubt, the elegant precision of verbal patterns is at least partially to blame for my fascination with all things French, including spectacular shoes and luxurious lingerie. Or possibly, it was Baudelaire, who introduced me to melodious and moody invocations, likely under the influence of alcohol or absinthe. Him, not me. But lest you wonder – can you spell hallucinogenic?
Found history
As I paced my little home this afternoon, emptied of the usual teen testosterone, I knocked over a stack of books and papers in my jammed home office. I found two sketchbooks from another life – my life – from the mid and late 1960s. Portraits of Baudelaire and Twiggy. His sunken eyes; hers, fringed by those long, false lashes.
It was like time travel, zapping back to the sixties. My sixties childhood.
Kennedys and Camelot
I'll fess up. I'm old enough to remember when Kennedy was assassinated, barely… of course. My mother and grandmother, like most women, emulated Jackie, wanted to be like Jackie. And wanted their men to be like JFK.
As I gaze at the Mad Men characters with their skinny ties and white shirts, faces obscured by cigarette smoke and hard drinks always at the ready, my own recollections (of family and neighbors) come flooding back.
The sense of optimism, possibility, excitement that lay ahead.
Other 60s realities
But the 1960s were more than Playtex bras, cocktail dresses, and men with swagger who admired both. It was a scary time: Cuba, Communism, duck-and-cover.
Of course, 1963 was the year that JFK was shot, but it was also the year of Martin Luther King, Jr.'s "I have a dream" speech, just three months earlier. And in 1964 we saw a quartet of scruffy young men from Liverpool, England, who sang on the Ed Sullivan show and reshaped our understanding of music.
By 1965, Viet Nam was bubbling to the surface of public consciousness, as was the Civil Rights Movement, with the march on Selma. It was the year of the great Black Out in the Northeast, and the year I wandered off at the World's Fair – and fortunately – was found!
I recall reading about the first heart transplant performed by Dr. Christian Barnard. It seemed like science fiction. That was 1967. And science fact, to me, was a world called Star Trek and its Trouble with Tribbles, transporters, and time travel that had me mesmerized.
No going back
By 1967, there was no denying that our country was changing rapidly. And irrevocably. The war was being hotly debated; all we had to do was turn on the TV (no remotes then; we turned on the television). And our films were changing as well – Guess Who's Coming to Dinner offered us sanctioned interracial love, and The Graduate dished up suburban sexuality and discontent.
By 1968, Viet Nam was raging, mini-skirts and mod fashions were pushing aside Chanel, and my style icon was a boyish, skinny model named Twiggy, even as I was learning French, and imagining myself in another country and another life.

Op and Pop were changing the face of art history. Psychedelic colors were spreading into fashion and décor. Drugs were seeping into the schools. Robert Kennedy was running for President. Revolution was in the air and we were young enough (and naive enough) to see it as all good. Then Dr. King was assassinated and two months later, RFK.
1969 brought a whole new sort of happening to a small town named Woodstock, followed by a walk on the moon that felt like delivery on a promise. Free love, hippie hangouts, sit-ins, violence – 1969 held little resemblance to 1963.  How could six years have created such radical changes?
Closing chapters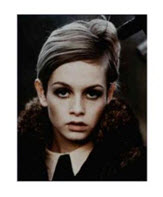 Ted Kennedy passed away a few days ago. Walter Cronkite, last month. It was he who announced the deaths of JFK and MLK, he who brought Vietnam into our living rooms. For those who recall the sixties, and who followed Ted Kennedy's long career – particularly if you grew up in Kennedy territory (as I did), these are sad and strangely linked moments, closing a door on an era.
As I look at my drawings from the 1960s, I have to laugh at what a strange kid I was, and also, note how young my passions established themselves – art, words, the French language – still much loved today. I'm also astonished at the details that I recall, mostly rekindled through sound and pictures, as if they were documented on film in my brain.
In an hour, when I watch Mad Men, more memories may be jarred loose. I hope it's "the good stuff" – my geeky but contented self, nose in a book or fingers wrapped around a pencil, sketching Twiggy or Baudelaire. And in the background, the phonograph in the pine paneled kitchen is playing, and four young men who call themselves "The Beatles" are singing a brand new kind of music.


© D A Wolf

Image of Betty Draper, BravoTV. Image of Charles Baudelaire, public domain.