Should your first meeting with a new man (or woman) be through video? And can you introduce your kids to a new love interest online, say – via Messenger?
Online introductions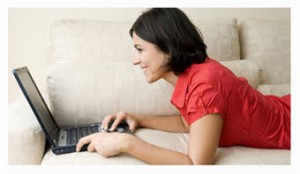 Frankly, an online intro is a quick way to discern if there's a spark with a possible online date. Sound cold? I think it's just practical. If the potential candidate for the pleasure of your company lives five miles away – then email, call, share a cup of coffee. Find out if there are sparks "the old fashioned way." But what if there's distance involved, or complicated logistics?
Then why not have a first tête-à-tête over the web?
Then what?
If your online hottie looks or moves nothing like you imagined, isn't it better to know before shelling out $12/hour to the babysitter and stewing in traffic to meet halfway? And if he gazes straight into the web cam with big dreamy eyes and a smile to melt the polar ice caps, then you just upped your motivation to meet… and fast.
Introducing kids
Deciding when (or if) to introduce your children to someone new is always a dilemma. Sex for the single parent is hard enough to maneuver; my kids rarely meet anyone I date. I see no need, not for them, the guy, or me.
But if something is more than casual, or distance is involved, that changes. And Messenger (with web cam), or similar tool, is my new best friend.
Easy or awkward?
If I'm chatting on video, I've already been through the flirtatious emailing, telephone conversations, and some sort of foundation is established with my hunky new heart throb. Maybe we've met face-to-face, and the sparks flew immediately. Now the web cam keeps the juices flowing – and the relationship growing – until we can get together again.
Since we're spending time online, there's a good chance of a "drive-by" – teens seeking food, money, or car keys. And that yields an impromptu (and easy) hello, peering over my shoulder and at my laptop. 
Long distance relationships
When a three-hour drive or a four-hour flight is required to see your new man or woman, web cam dates become part of the package. But I also know the more my kids see me with someone, happily, even if it's online, the smoother it is to introduce everyone in person. If and when the time comes.
And it works both ways. I've been introduced online as well. Kids tend to find it fun, and sometimes, they jockey for position in front of the camera. When you're all face-to-face at last, there's familiarity. Will there be questions and possessive moments? Sure. But that's true even if you meet over hot dogs and softball…
As for the rest? Common sense – discretion, respect, patience – and letting nature take its course.