It's the 4th of July!
To celebrate in high style, how about a glance at some color-charged fine art from the 20th century. It's all-American, it's hot hot hot, and it's red, white, and blue!
On the RED Team:
Barnett Newman, Mark Rothko, and Philip Guston
On the WHITE Team:
On the BLUE Team:
Ad Reinhardt and Ellsworth Kelly – and let's throw in a Frenchman – Yves Klein. After all, Lafayette helped out in the Revolutionary War, didn't he? And Yves Klein is known for blue!
To top things off, a few works filled with red, white, and blue – imagery you may know, and some you may not. A little Faith Ringgold and Jasper Johns. So enjoy!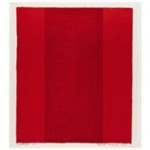 RED, from abstract expressionist / minimalist painter Barnett Newman.
Who's afraid of red, yellow, and blue? Or all the other colors, including black and white?
Certainly not the abstract expressionists, the color field painters, or the other abstract painters of the 1940s, 50s and 60s.
The New York Abstract Expressionists (the New York School) were a remarkable group of post-war intellectuals and artists, concerned with process – gesture and action. They included: Arshile Gorky, Robert Motherwell, Jackson Pollock, Lee Krasner, Mark Rothko, Willem de Kooning, Mark Tobey, Philip Guston and many more, in two waves of artistic achievement.
Mark Rothko's boundary-blurring stacked forms (as in the red example above) assault the senses with rich, layered hues. He has many examples in a variety of brilliant as well as pastel color schemes.
Rothko encourages us to feel the art, rather than analyze it. His paintings challenge us to let interpretation slip away, and bask in the hues and texture of his large surfaces.
Experience this less monotone composition in RED from Philip Guston, offset by moody dark tones in this late 1940s painting, The Tormentors.
While his gestural abstractions evolved into a colorful cartooning style, for which he is most widely known, Guston's paintings often combine reds, rose and bubble gum pinks.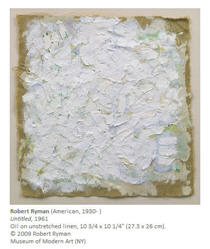 WHITE, from abstract artist Robert Ryman, one of a series of paintings that epitomize minimalism. But note the rich and varied surface.
A more refined take on white?
Agnes Martin's minimalist works rely on fine lines and grid structures. Our eyes are drawn to the precision and delicacy of her details, and the soft colors, including white. The effect is the opposite of cold; Martin's art is surprisingly meditative.
Ready for some heady BLUES?
Ellsworth Kelly addresses pure color in pure forms, creating stark, conceptual, minimalist images.
Ad Reinhardt also goes for geometry, but his blues (and other vivid abstractions) feel more playful, and less intellectual.

Really wild for blue?
Then be sure to see some Yves Klein Blue!
Another post-war talent, Yves Klein was a French performance artist, painter, and sculptor – and all about blue. His pursuit of color resulted in a chemically developed pigment (ultramarine), now known as Yves Klein Blue. His lavishly layered canvases and other works figure among modern art collections worldwide.
And pulling together our RED, WHITE, and BLUE scheme – a few more works in patriotic, social, and historical schemes, from Faith Ringgold and Jasper Johns.
Faith Ringgold narrates across mediums. While she may be best known for her art quilts of African-American life and history, The American People Series #6: Mr. Charlie, (also predominantly red, white and blue) is a quietly imposing image in oil on canvas. She began her career as a painter, and is also a writer.
Jasper Johns is one of the most widely regarded pop artists to emerge from 1950s Abstract Expressionism, laying the foundation for both Minimalism and Pop Art, by making fine art of everyday, iconic images. His maps and flags are immediately recognizable.
And what's better for the 4th of July than the Stars and Stripes?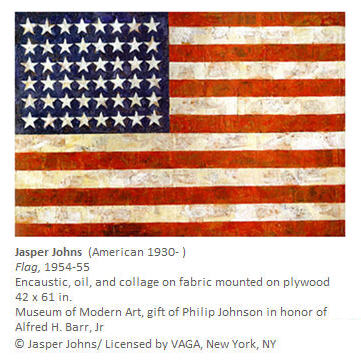 To learn more about all of these artists and others, our finest museums have online archives as well as biographies. Here are two terrific sources to start with: MoMA (NY), as well as San Francisco MoMA.
———

© D A Wolf



Big Little Wolf's Daily Plate of Crazy