It's hardly an original concept. Yet it remains true that sex sells in advertising, regardless of the communication channels employed. Sexual imagery motivates millions to purchase products and services. It fuels careers, and accounts for billions of media dollars.*
It's a tried-and-true method of catching our interest – and retaining it. Sex has been used in advertising for as long as advertising has been around. But why is it still so effective, even though we're exposed to sexually charged images to the point where they have dulled our senses?

Observation: We may think our senses are dulled. But not when it comes to sex.
Drawn to beauty
Among the elements that draw us in – beauty. And typically, idealized beauty for a targeted audience, intended to boost the bottom line while exceeding cultural norms. Beauty seduces our senses, incites our desires, and enlists our fantasies. We find beauty in human forms and features, in the suggestion of the sexual encounter that is thinly veiled or not veiled at all. Sexuality is a fundamental, endlessly intriguing human experience.
Let's face it – whether selling shampoo or pickup trucks, a beautiful woman is an effective tool.
Bare a breast? Both men and women will look.
Bodies intertwined? A sure attention-getter.
A hint of actual sexual engagement? We're riveted.
Put a pretty body next to almost any product – whether she or he has anything to do with the product or not, and potential customers will be attracted.
Will they notice what is being marketed? Will they buy?
Plenty must, or advertisers wouldn't still be roping us in with our responsiveness to sexual triggers.
FACT: The human figure is a source of eternal fascination; a point of comparison (to ourselves), an object of desire, a work of art.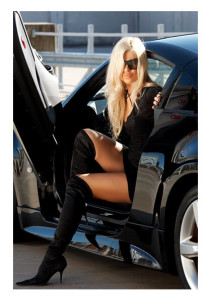 Call it voyeurism if you like; I call it human nature, curiosity, and also, appreciation. Advertisers and marketers have long known that it's worth capitalizing on.

Reality: Not all sexual imagery rests in the realm of the "beautiful," by conventional standards. Prurient may be more like it.
And prurient imagery sells effectively to audiences that seek associated products. It may be just an impression – or the fact that the Internet has made paper-wrapped magazines a quaint remnant of the past, but it seems that e-commerce in the sex trades is booming. A 21st century cultural phenomenon? A recessionary consequence? Or are we just more aware with so accessible a marketing channel?

Remember those early Calvin Klein ads?
"There's nothing between me and my Calvins."
Scandalous. Sexy. The imagery and copy, together, were the perfect coupling. Nubile bodies, tight fitting denim, youth. Everything to make us look – and make us buy. Sex sells when it's done right.
Note: Calvin Klein courts controversy with a recent 50-foot billboard in Soho, as jean-clad models play out a steamy scene. Too far for some? The jury's still out.**
Beyond beauty: taboos
It's more than beauty that mesmerizes us. It's more than fantasy or entertainment or even arousal. Sex sells, in part, because it's about taboos.
In western cultures, sexuality still hovers in a sort of half-light, playing out in secret and shadow. Naturally, there is the "light of day" engagement, but the peripheral sex trades, amply facilitated by Internet channels, offer clear (if anecdotal) evidence that sex also sells more sex, around the clock, and around the world.
Are marketers to be castigated for exploiting what works? Then again, where do we draw the line?

Let's talk forbidden fruit
It's human nature be curious, especially when it concerns forbidden fruit. In theory, curiosity may kill the cat and we may be warned away from Pandora's box, but we're still likely to pursue the forbidden. With gusto, even if on the sly.
Sex is something we've sensationalized in western culture, and in so doing, we've classified entire behaviors as off limits.
It's as if we have a playbook of partners and how they should engage, specified positions that are permitted, and a series of scattered notes and thoughts on what is out of bounds. Of course, what's out of bounds is exactly what we're most attracted to, and what appeals to our curiosity.
Perhaps this is what is touching off the firestorm in the Calvin Klein foursome. Or is it as simple as the fact that the provocative ad is visible to passersby, rather than being relegated to the glossy page of a fashion magazine?

A different sort of example – disturbing…
In our self-promotional ethos and tabloid times, it has become commonplace to do whatever it takes to achieve our ends. And "whatever it takes" doesn't always involve good taste.
Two days ago I came face to face with a formulaic approach to heightening web presence. Simply add the word "nudes" to almost any Internet venue, couple it with a celebrity name, optimize for the search engines, and bingo! You'll get hits. Thousands of them. Whether you're actually presenting celebrity nudes or not.
One site I ran across offered a blatant example. It combined Farrah Fawcett with the word nudes, tagged appropriately. The site itself contained threadbare text (no surprise) and a relatively small selection of photos – some in sexy poses (clothed), others partially nude.
All things considered, the handling was tasteful, and the objective (maximize site hits) was crystal clear.
My impressions of celebrity images online

In the wake of Farrah's lost battle with cancer, I found myself torn. The site was exploiting a dead woman and her family. It was in bad taste. But it was also smart use of "sex sells," "celebrity sells," and "nudity sells." In this case, a few words and a limited number of images achieved the desired goal. When the hunger for Farrah abates, there are plenty of other pages on that particular site containing celebrity images to suit the audience.
Note: Ironically, most of the images show Farrah as young, vulnerable, and lovely. This site administrator chose wisely, straddling a fine line.

So I say to myself: judge not, etc., etc. After all, I'm a marketer as well as a writer. Anyone in a free market can recognize a need and fill it, assuming it's legal to do so, right? And then there's the old standby, the First Amendment.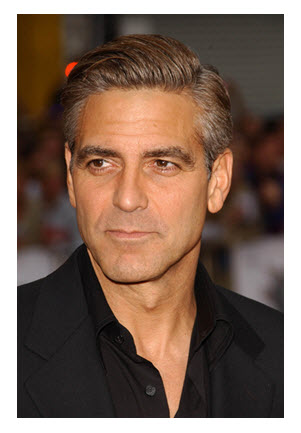 It's up to us, as consumers – paying or otherwise – to make decisions about excess or relevance, and use our buying (or visiting) behaviors to render sexually oriented subject matter as "appropriate" to the purpose and context. Or not.
I admit, the Farrah pictures – along with other female celebrities – did give me a thought. A George Clooney thought.
The divine George?
Flash those eyes and little grin, and I will certainly seek out his movies. Provide the voice alone, and I will picture him (and his sexy smarts), and likely consider buying whatever he has to sell.
At the very least, a Clooney moment gets my attention. Then again, there are more than a few men I wouldn't mind gazing at. They needn't strip for me, however; an intelligent regard, a playful smile, tight jeans – that's more than enough. I can take it from there, thank you very much. 

Can using sex to sell backfire?
When it comes to using sex to sell, handle with care. If you use sex to sell the wrong product, the strategy backfires. This depends on the product or service you're marketing, and who the audience is. But layering on the lascivious isn't always the right tactic.
Why not?
Because it may not serve the longer term purpose. For example, were I to mislead with titling and content, not to mention tagging or optimization, those who may stop by here expecting to read something thoughtful – a personal essay, a slice-of-life, a bit of humor – would potentially be irritated.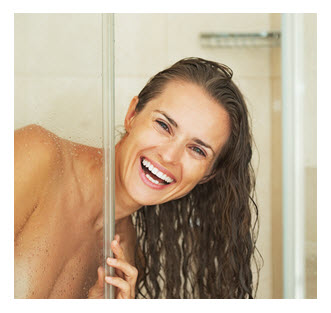 Those who are expecting a celebrity nude site, in the context of the topic of selling sex to sell goods, would be equally disappointed.
Nudity in European media

I remember my first trip to France. I was a young teen, naive, and living with a French family in a small town in Normandy. A tiny, Catholic, rural community in the 1970s. The rules of the household were strict (with five adolescents including myself); mass was attended every Saturday evening, by the entire town.
And yet when we gathered around the television, soap and shampoo commercials showed beautiful women in the shower, nude. At first I was stunned. Not the sort of thing we'd see here 30+ years ago, or before cable. But what really struck me was the ease with which the children, parents, and grandparents took in this imagery as if it were commonplace and natural.
Because it was.


*Ad Age reported approximately $142 billion US ad spending (consumer & business advertising), across all media, in 2008. The Nielsen Company reported approximately $136 billion. It  is reasonable to assume that ad dollars utilizing sexual imagery accounted for "billions."


**For more on the Calvin Klein ad, check out Reuters video coverage.


Image of George Clooney, North American Premiere of Ocean's Thirteen, 2007, BigStockPhoto.