Worried about hair loss?
Are you losing your hair? Would you like a woman's perspective?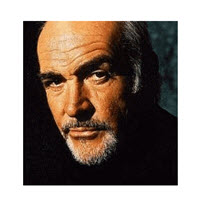 First, I'd like to address myself to all you men out there with thinning hair, or clearly visible bald spots.
Are you losing your war with comb-over? Are you contemplating drastic measures like hair replacement? The proverbial ill-fitting rug? Krylon spray from your local hobby store?
Let me position myself quickly in this age-old debate by stating the following: Sean Connery is one of the sexiest men alive. He's bald, and approaching 79 years old besides!
Then there's Michael Jordan, Tyson Beckford (omg I'd overlook the tattoos for those pecks), Jason Statham, and so many others…
Have dark delicious eyes or brilliant baby blues?
Use them to undress that woman you're talking to – respectfully, of course. Gaze intently. Into her eyes, please – not the cleavage. Not at first, anyway. Do linger over the process. It's simple and it works. It requires no outlay of cash, and no hair.
Have extraordinarily beautiful hands?
Make sure those long fingers are in view – moving slowly, close by, as you express yourself. Nothing cheesy now – no need to actually fondle your wine glass (or beer can) – but keeping them in the line of vision will encourage her to imagine them in more intimate proximity.
A few tips?
Oh – and a little secret, gentlemen: touch a woman's face with your hands. Take her face between your palms, gingerly, when you kiss her. Stroke her eyebrows or her cheekbone. Trace her lips with a fingertip. You have no idea how effective those simple gestures are at starting her engine.
Have a smile that could melt the polar ice caps?
Use it, often.
A voice that is basso profondo?
Another asset that is much underrated. A deep voice is a little-mentioned marvel that can send shivers up and down a woman's spine.
Great chest, arms, ass?
Have a terrific feature? Show it off!
Women are visual, just like men. We're just not necessarily visual at the same pace,  to the same extent, or in all situations. And of course, every woman is different.  Sorry guys – no easy assembly instructions here; receptiveness to the view – close-up or distant – will vary.
Do you have incredible style?
Personal style is not to be underestimated. The clothes do make the man, for some women. Or at the very least, a pair of great jeans and a gleam in your eye – oh yes. That may be all it takes. On a hot day…
Do you move with grace, with confidence?
It might be on the tennis court, on the track, in the water, or just crossing the bedroom. Women love to watch men move. Power and elegance are a deadly combination in that department.
What else sizzles?
When it comes to the oh-so sexy sensory domain, remember taste, scent, touch – of course they matter as much as the visual.
And acts of thoughtfulness? Listening? You've already been told, thousands of times. Humor and intelligence? Pure aphrodisiacs.
So take your time. Linger over Pthe feminine terrain you're exploring. Savor every moment (and let her savor, too, physically and emotionally). Or ask what she might like in that rolling, rumbling voice of yours. What woman wouldn't melt, knowing that the man she's with is hungry to explore her in a way that feels good?
Cure for baldness?
Who's looking for a cure? Is there a problem here? It's all about self-confidence and assets that make you hot in much more substantive ways. The qualities that make you a good man, an attentive and exciting sexual partner. And the ability to recognize a woman (or man, if that's your preference) who appreciates you fully.