"He's been in bed for two days," says the older brother.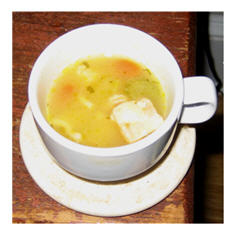 "Doing what?" I ask.
"Dunno," is the reply.
"Could you give me a few specifics? Any television or piano? Was he on the computer?"
"Dunno," his brother says again, as I open the door and look in. My younger son rolls his eyes toward me, smiles a little, and acts as if I'm not scowling, looking at his bed and floor, covered with filthy socks, underwear, and crumpled toilet paper.
"How do you feel?" I ask.
"Uhhhhnnnn," he groans. I walk over to the bed, place my hand on his forehead. Very slight temperature. Not much.
"Tylenol to bring the fever down? Chicken soup that was left in the fridge? Orange juice and sleep?" I stand by the bed, speak methodically.
"Uhhhhnnnn," he groans again. Clearly, that was a no. Clearly there was drama in the response. I see it in his eyes.
Day 3: Much of the same. Mother dispenses OJ, Tylenol, Riccola. Yes, chicken soup.
Day 4: Mother adds fresh-baked bread to the mix. Consumed, slowly. A good sign.
Day 5: Quiche for dinner. His favorite. "Uhhhhhnnnnn" remains the refrain. Consumed. With gusto. Uh-huh.
It's a new day. The chicken soup is gone.  The fever is gone. But 16 year-old boys come with few instructions and infinite special requirements following a summer cold. Especially when the dishwasher needs to be loaded, the laundry folded, the plants on the back deck watered, the trash can moved to the curb.
"Mom, I'm hungry."
It's a call from the wild. Not weak, even if there is a bit of a rumble in the throat, an anchor to some gurgling gunk in the nasal passages.
"What would you like?" I call back from my computer, where I've been researching with only the usual interruptions. For a few hours at least.
"Chicken soup. Please."
I shake my head. Set aside my laptop. It's the "please" that does it, and he knows it. I pull the latest vat of Jewish penicillin from the fridge and put it on the stove. Warm it. Watch it disappear. Hear a door close. Thirty minutes later a lanky, white faced, pink-nosed boy reappears in my doorway. He's smiling.
"Can I go to Tim's?" he asks, cheerfully.
"Are you kidding me?" It's now evening. It's Day 6 of Mama-does-her-nurse-routine. Besides, his brother has the car.
"I don't think so," I say.
"But Mom…" he begins.
"I don't think so," I repeat, more emphatically.
"I'm fine now, really," he says. ""I feel great. That chicken soup…"
I toss him a glance, which he reads immediately. It is "the look." The one that mothers master, early. He doesn't try again. Turns, and goes back to his room and a book.
Some things are classics. A cool hand on the forehead. "The look." And of course, chicken soup.