About Daily Plate of Crazy
Founded in 2009, Daily Plate of Crazy is the Love Child of D. A. Wolf, a writer who felt at loose ends after completing a major project, and missing the pace of her newspaper days spent reviewing art. Hungry for more hands-on involvement in social media, and despite the crazy-busy juggle of freelance work and raising two boys, Daily Plate of Crazy was born.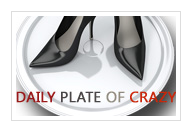 It began as an adventure in blogging – never intended to chronicle the happenings of her days, but rather to use life experience as a means to experiment as a writer, and to question, play, poke, provoke, enthuse, engage, and entertain.
With daily posts and columns that touch on everything from intimate issues in marriage to social and political concerns of the day, Daily Plate of Crazy features lively discussion on relationships, parenting, health, love & sex, women's issues, fashion & style, arts & entertainment, life's "big questions," and much more.
Daily Plate of Crazy is expanding its roster of contributors, and we hope you enjoy the addition of new voices.
About D. A. Wolf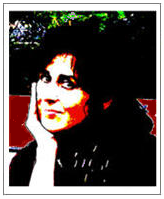 D. A. Wolf is a writer, editor, copywriter, marketer, trainer, polyglot, art collector, traveler, and devotee of exquisite footwear & French lingerie. She believes we are all brimming with glorious contradictions, and capable of living fully with whatever life dishes out…
D. A. admits to two sons (now in college), eight imaginary friends (in Paris), 38 gray hairs (and holding), 44 pairs of shoes (at least), and an unspecified number of books which she lovingly guards in defiance of an increasingly virtual world.
D. A. holds degrees from Wellesley College and the University of Pennsylvania. She has lived up and down the East Coast and in Paris, and has spent the past 8+ years as an independent consultant and freelance writer working on a variety of communications projects for business and the arts. Her print publication credits include ARTnews, Raw Vision, France Magazine, and the Atlanta Journal-Constitution, with online contributions at ForbesWoman.com, The Huffington Post and The Good Men Project among others.
Also known as "Big Little Wolf," you may learn more about D. A. Wolf here, follow her as Big Little Wolf on Twitter, @BigLittleWolf, and "like" Daily Plate of Crazy on Facebook, where your comments and conversation are always welcome.
Contact email for all inquiries: BLW @ Dailyplateofcrazy.com.
D. A. Wolf (Big Little Wolf) en français
D. A. Wolf (Big Little Wolf) est journaliste freelance, rédactrice, maman, collectionneur d'art contemporain, polyglotte, voyageur, et amatrice de belles chaussures (et lingerie française). Elle est passionnée par l'art contemporain et l'art moderne, par les images et les mots, et par les contradictions qui nous inspirent.
Veuillez la suivre @BigLittleWolf.




Please note: Photo images purchased via BigStockPhoto, used with attribution via Flickr, acquired via other sources and attributed according to CC licenses, my images, or in public domain. Every effort is made to acquire permission to reproduce images and properly attribute as needed. If you see images which you believe are not correctly attributed or which you believe are yours and should be removed, please contact D. A. Wolf at BLW @ dailyplateofcrazy.com.


© D. A. Wolf  2009-2013   | … Daily Plate of Crazy     |      All Rights Reserved