I've been fat. I've been thin. I've been everything in between.
How many millions of women could say the same?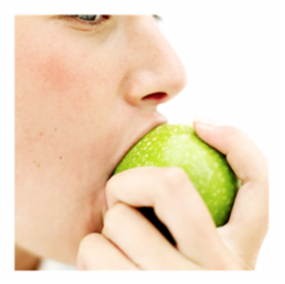 In my own head, I was always fat – and felt that way for decades despite being a normal weight for both my age and stature. Yet I was certain I was fat. No one could convince me otherwise. 
Again I ask: How many millions of women might say the same?
And diets? I won't say I tried everything on the market, but a sampling of this and that, and mostly, the typical yo-yo associated with eating too little, then regaining every last pound and more than a few extras.
Still, when I inch up even a single dress size, the feeling of fat surprises me. I look in the mirror and dislike what I see. The reflection is accompanied by distress, disappointment, and at times, despair.
Reading a recent Jezebel article, it seems that we who lodge our fat selves in our mind's eye aren't alone. Others who know us "fat" will continue to see us and judge us (critically) as well.
Pointing a (Fat) Finger
 The Jezebel article makes it clear that blame and shame are still the stuff of the fatter than average person. Assumptions are formed when it comes to fat people, apparently, even after they lose weight. According to Jezebel:
… a new study finds that people continue to be negatively affected by fat stigmas even after they have lost weight….

[Participants were asked to rate] a series of women—some who had lost 70 lbs and some who had remained weight-stable… The results? People hate fat people so much that they can't stop hating fat people even after the fat people become thin people.
The myth of the Fat Personality persists: fat versus thin is perceived as a matter of self-control, and those who are fat must be lazy, lack discipline, or not care about their appearance.
But the worst fake-out of all?
That would be us. Women who fear fat, face fat, fight fat – and in so doing, erode our own self-esteem.
Growing Up Fat
I wasn't a fat child – only the usual "pudgy" at stages when most children are round rather than scrawny. But I was the daughter of an obese mother, which caused a tizzy over my Inevitable Fat Future – unless something was done early.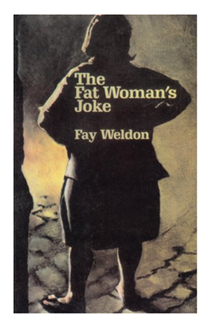 I remember being bribed into my first diet (of hundreds) when I was six. I remember participating in my mother's crazy food obsessions, worsened by her popping pills to drop the pounds. I remember her pain, the cruel comments, the clucking tongues, the shaking heads.
I remember starving myself, hoping it would help.
The result?
I spent the next three decades on a roller coaster, sometimes overweight, at other times "normal" – a highly subjective determination. But no matter what, I was never the much coveted "thin enough."
I compared myself to every skinnier woman I saw, and never realized I had a perfectly acceptable figure until I looked back at age forty and after two pregnancies, understanding my long distorted vision. By that time – I was fat. And it was a long, difficult road to a comfortable "me" – kick-started by Weight Watchers, and finished off by the Divorce Diet.
But the reflection of a Fat (and unworthy) Self has never let up entirely, though it's lessened to the level of periodic preoccupation. Fortunately, as I grow older, my sense of self strengthens, and body image is loosening its grip.
The Fat Woman's Joke
Does anyone recall Fay Weldon's book, "The Fat Woman's Joke?"
It's the story of a woman who is fat and unattractive; her husband leaves her for a flighty, pretty, and yes, thin woman. But the fat woman exacts her revenge, and it's mighty indeed.
When I read the book, I felt strangely ambivalent. I recognized myself in the Fat Woman's pain; I knew her rage (I saw it in my mother), I understood the satisfaction of her vengeance, yet more than anything, I was saddened by the waste – wasted energy, wasted blame, wasted years, and the sorrow of self-loathing.
Like I said, I recognized myself.
The Fat Fake-Out
Put me on a diet of apples? Cabbage soup? Grapefruit? Put me on the same diet as a friend with a different metabolism, of a different stature, and different genetics?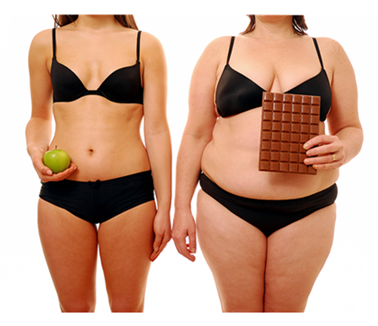 Our bodies will not respond in the same way. Period. And do I really have to add that my body at the half-century mark doesn't respond to the sensible and healthy ways I once mastered to lose a few pounds?
It's not that those methods no longer work, but they take more time, more patience, more resolve.
Eating organic? For me, it's made a difference. I won't say that I lose weight, but I can eat more and enjoy it, and I don't gain. 
As for the prejudice that exists toward those who can't live by the Perpetually Thin Ideal, it continues to run rampant, along with assumptions that a heavy woman must be snacking on chocolate, while the thin woman would never consider such a thing.
My Own Fat Head
I won't say that I don't worry about my appearance. That would be a lie.
I won't say that I don't get upset when I "feel" fat. That would also be a lie.
But I don't get on the scale daily, or even weekly, whereas I once did so each morning and night. My sense of comfort in my own skin is dependent on eating in a healthy manner, exercising in moderation, and fitting my clothes – at a size that is appropriate for my age and stature.

In my head? I continue to struggle at times, and I may always do so – arguing with the self-image drawn in childhood, and focusing on the woman I am. 
The Measure of a Woman
While I wouldn't vouch for the statistical validity of the study Jezebel cites, we have only to look around us to see Fat Hatred and Skinny Worship – though now, tits-on-a-stick is the Brave New Dream.
And the ever-moving body bar is targeted at women. And women, in my experience, are the first to judge others – ironic considering we may find ourselves equally judged a few years later, after pregnancy or when metabolism, medications, or other factors may kick in.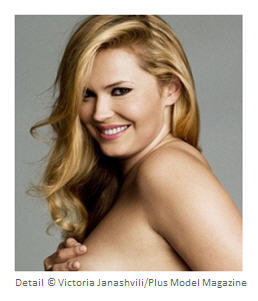 Beauty? Of course it matters. Yet our definitions of beauty are many, as well they should be. But more of us have bodies like Katya Zharkova rather than Kate Moss – now or in days gone by.
I might suggest that we attempt to accept our bodies in a reasonable fashion. We know when we're truly in trouble; our doctors tell us so (and likewise, our families).
I also suggest getting naked – daily – as a means to come to acceptance.
The measure of a woman?
I'd say it's her heart, her contributions, her relationships. It is not dependent on a scale or a dress size. And if our own heads tell us otherwise, it's time to say no to the fake-out.

Click image of Katya Zharkova to access photos provided by Plus Model Magazine.

You May Also Enjoy