Is it a pipe dream, imagining we might actually achieve work-life balance? Are we tilting at windmills – in the U.S., at least? Is arriving at that balance a matter of effectively negotiating the details with your partner, choosing among a variety of options in full awareness of the trade-offs?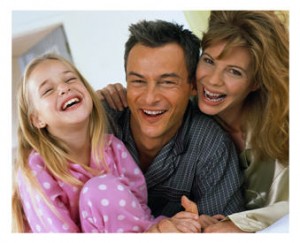 Ah, yes. Trade-offs. We don't like that much in this country. We're more accustomed to attempting to do it all and have it all – and by that, I mean more than the traditional white picket fence and a decent job.
We want more. So much more. We deserve it, or so we tell ourselves. Moreover, it's what we're supposed to want – isn't it?
Or is the issue of work-life balance just another one of those high class problems to have – which doesn't mean we shouldn't address it, but might indicate we ought to put it into perspective?
Is Work-Life Balance a Myth?
Always worthy of a look-see, earlier this week Motherlode addressed issues of work-life balance, offering compelling statistics on the issues of work-life balance around the globe, asking readers from other countries to weigh in. According to the article,
Countries with a tradition of more supportive policies for parents do report a greater level of balance in their lives.
I have my own "other country" contacts and experiences (France and Benelux, largely), but found the article illuminating and even more so – the fact that many parents are torn no matter what age they return to work following the birth of a child. There is also a wide range of responses – as one might expect – on the expectation and need to return to work.
Some women were delighted to go back (as was I, six weeks after my boys were born). That said, I admit that leaving in the morning was physically wrenching – like piece of me was missing, and four hours into the day I'd be pining to get back to my little one. When I'd return after a nine hour absence, I recall the physical sensation of feeling "whole" again, as soon as my child was in my arms.
Torn?
You bet. And feeling guilty that while I was at work – for those four hours or so anyway – I was delighted to be away from feedings and crying, and even more delighted to interact with professional adults – using my brain, my skills, engaging in conversation that had nothing to do with babies or children.
Conflict for Working Mothers
For me, the tougher years came later – when my sons hit elementary school. That's the beginning of the period when it's no longer about coos and kudos over smiles or developmental markers; the conflict for working mothers and fathers includes awareness of less involvement in a more complex emotional and intellectual journey. This is the child's journey that fuels social interaction, not to mention curiosity. We reinforce habits – for better or worse – through what we praise and what we discourage, and in attitudes as well as behaviors.
Certainly, the child's nature has much to do with this, and I kept my full-time foot in the working world, transitioning to a job that allowed me to work from a home office and still be home to take kids to and from school, to make sure they had play time afterward, and to be "there" so they could see me (and I could see them).
But that didn't last. Those jobs are few and far between, and child care options are expensive. I was lucky; I hung on to that option for a considerable amount of time – demanding though it was. Then I hit the black hole – those years when there are no childcare options short of paying a nanny or babysitter. No school programs available, and for me (and how many others?) – no family to assist.
That black hole hit in the public school system, around sixth grade.
The Costs of Childcare for Working Parents and Their Kids
Then what, if you don't have the money for childcare? Then what, if you must work in order to pay your bills? Enter the latch-key years, as your child becomes more and more susceptible to a world of troubling temptations at age 11 or 12?
Returning to the Motherlode article, countries cited as having superior maternity/paternity leave policies, citing OECD data, include (not surprisingly): Denmark, Norway, Netherlands, Finland, Belgium, Switzerland, Sweden, Germany, Portugal, and France.
Note that four of the top ten are Scandinavian.
What if we were to look at quality of life measures in these countries?
What if we were to look at correlations to other elements of social safety net, like health care?
What if we were to look at poverty rates, at general standards of living, at GNP, GDP, or other economic measures?
What about divorce rates or longevity?
What if we could draw some conclusions from comparisons of that data?
The originating data which Motherlode referenced includes comparisons of employment rates for women, theoretical "personal time," and average number of hours worked per year. I wish I had the statistics in these other areas, not to mention the expertise to analyze the correlations.
If Other Countries Manage More Balance, Why Can't the US?
I can't help but believe that work-life balance is an impossible dream in this country – not because of the natural tendency for a mother (or father) to be "torn" by leaving an infant or young child, but due to a complex cultural cocktail that includes personal and societal identity around "work," insufficient options for childcare, lack of family to assist in child-rearing – worsened by going wherever you can find work, and lack of social benefits like universal health care.
To be clear – I'm not suggesting that Americans will suddenly shed our particular cultural ethos that spurs entrepreneurship, individuality, innovation, pride in our accomplishments, and a "success focus," for lack of a better term. Nor do I think we must. But I am convinced there is much to learn from a thoughtful look at these other countries, including how we measure success, and engender respect for our accountability to each other, and to society as a whole.
You May Also Enjoy